Thursday 21st May Blog Week 7
Date: 20th May 2020 @ 9:58pm
Good morning you lovely lot!
Did you all enjoy the wonderful sun yesterday?
It was sooo warm wasn't it?
How did you get on with the bee activities?
So tomorrow will be my last blog for 2 weeks, as it should be half-term for you all- which also means I won't be setting you any work. You all deserve a relaxing break after working your socks off for the past 7 weeks!
Today I want to quickly show you these wonderful pictures and work I received from Anna, Lottie and Millie:
Lottie's Beatriz Milhazes work:
Anna's Tutankhamun:
Millie's 'Smile' Poem:
Fantastic work, girls- you are so creative!
I am completely thrilled with the amount of fantastic work I have seen from lots of you during this time at home. It really keeps me going and makes me so happy to see how wonderful you all are at getting on with work and being so brave and determined- you really are all superstars! Every, single one of you!
I thought I would give you some electronic work today, seeing as I have given you so much that requires printing off, so have a look on Purple Mash, as I have set you:
A spelling quiz

A prefix and suffix SPaG game

A co-ordinates Maths game

A measurement game

2paint- create a Beatriz Milhazes piece of art on Purple Mash.
Remember to go on BBC Bitesize and have a look at their lessons.
The Oak National Academy also has lots of different lessons that you can choose : https://www.thenational.academy/online-classroom/year-5#subjects
Also, don't forget to read and exercise- here is a dance workout video that the children in school had a go at the other day- https://www.youtube.com/watch?v=GHCqRsrQwNU
Get some mega hard work done on Rockstars too before I announce the scores tomorrow!
---------------------------------------------------------------------------------
Finally, it is 'Outdoor Classroom Day' today. Why don't you spend some of the day doing your work outside?
Create a picture or collage from leaves and greenery-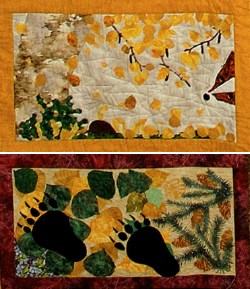 Make a den

Investigate how many different types of insects you can find

See how many different plants you can find and research them!

Do some flower pressing

And lots more- get creative!
(Just remember to ask permission for all of these things)
I have attached Thursday's 'Well-being Journal' at the bottom.
Stay safe, children.
One more day of home schooling to before the holidays!
Miss Davies 😊
Files to Download